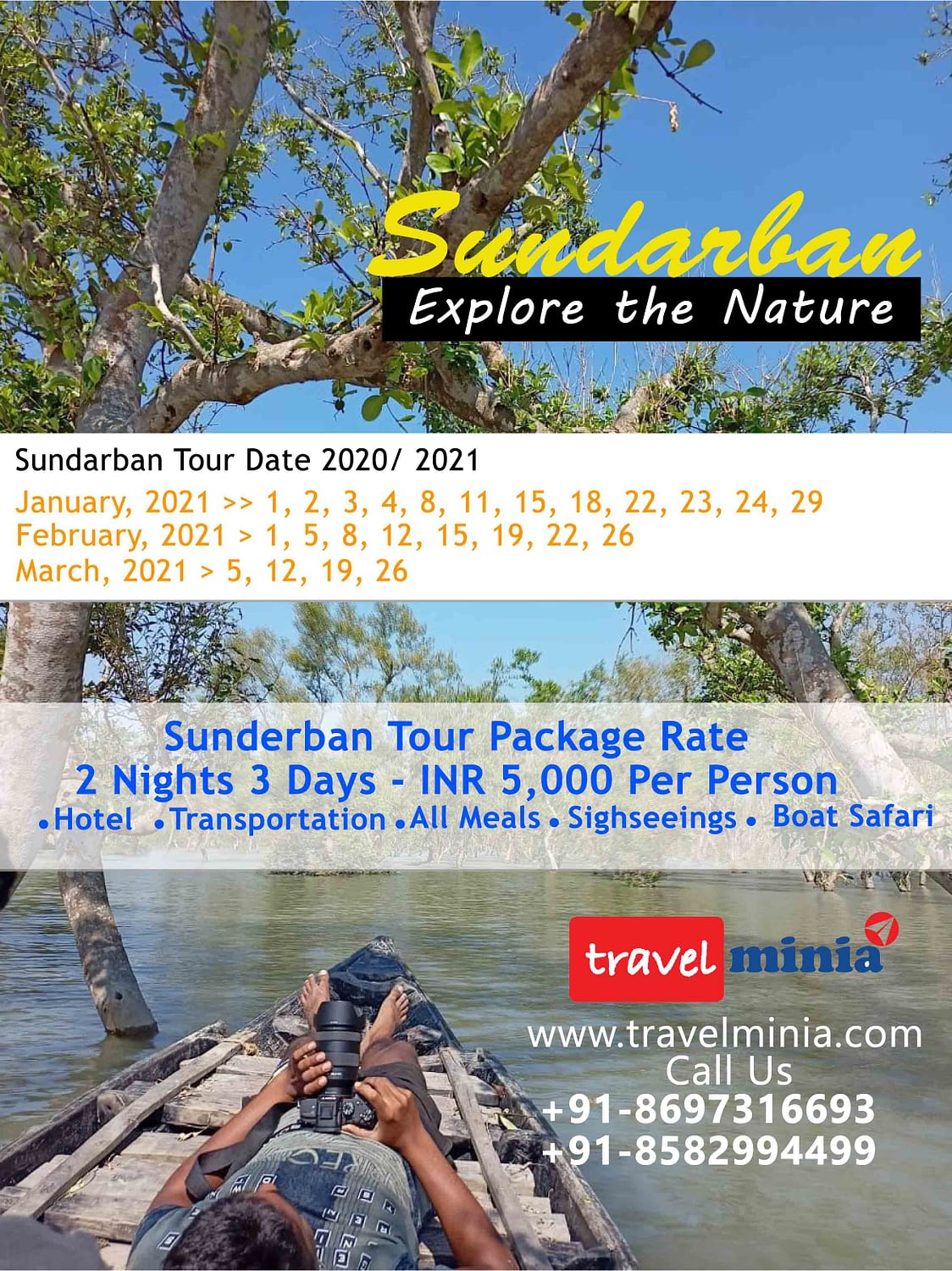 Sundarban Tour Package, Kolkata to Sundarban Package Tour
Sundarban Tour Package
2Nights 3Days -INR 4999 / Per Head (Include taxes)
Do you know guys this 3 Days 2 Night Sundarban Tour is an ideal tour package for Sundarban. You can enjoy the real wildlife of Sundarban and explore lots of animals. If your daily work life is getting a lots of pressure this short trip to Sundarban will definitely relax you. And even to surprise your family with an exciting wild adventure by taking them to a Sundarban tour will a good idea.
If you think anytime to plan this tour, then let's grab this Sundarban tour package with your most favourite Sundarban tour operator, Travelminia – Known for giving cheapest budget Sundarban tour package rate.
Are you confused about our tour package quality? You no need to worry, just check the online review of our before booking your any trip. you can easily check our guest's review in Google, TripAdvisor & Facebook.
Sundarban, West Bengal's natural beauty is know for it originality. From all over the world, people come here to enjoy the original charm of nature with exciting Sunderban tours and packages. If you are a true nature lover, then only come with us to explore about the real wild natural beauty of Sundarban forest. If you want to get a tour that excites you from inside, then book any of our Sundarban packages today!
Sundarban is immersed in the cluster of low-lying islands in the Bay of Bengal. Sundarban forest is the home to world-famous royal Bengal tigers, many wild birds, reptiles, mammals, and of course we shouldn't forget about the mysterious mangroves?
Well Sundarban tour is famous for 2 night 3 days package, but you can also opt for the sundarban tour 1 night 2 days package. This Sundarban tour package from Kolkata will revive your body and refresh your mind with its charming, enchanting nature.
Things to remember before going to Sundarban:
Regarding Affordability
The Sundarban tour package from Kolkata will cover all your requirements seamlessly and will provide you with best in service. The Sundarban package tour price is moderate, and within that, you get a lifetime experience of Sundarban. We tend to get you closer to the real sensation of nature with the experience of comfortable transportation, entertainment and celebration. This fascinating Sundarban tours will enlighten your soul, and you will begin to enjoy every single moment of it. We also provide you with the best guide on tour, which includes Sundarban houseboat.
Packing the Bags
Now that you know that our Sundarban package tour price is the most affordable let's discuss what to carry along. When you opt for the West Bengal tourism Sundarban package, there are certain things that you must carry. Be sure to take cameras and binoculars so that you can capture some of the best memories at your Sundarban tour. Focus on choosing comfortable shoes and clothes, according to the season for the Sundarban forest safari. And please don't forget to throw in a hat or cap to resemble a true traveller, once you opt for Sunderbans luxury cruise.
Hope On with Us
Our Sundarban National Park tour packages by cruise from Kolkata starts with two modes of transportation as discussed below. All the expenses, including transportation, are included in the costs. So please don't wait and come with us on our next Sundarban tours by cruise from Kolkata where we cover all the extremes of Sundarban travel. You will not be disappointed.
For any tour package time play a big role to enjoy the whole trip even short or long period of time. But in case of Sundarban Trip 3 Days 2 Night is ideal for Sundarban Trip.
Our journey for 3 Days and 2 Night Sundarban Tour package is start from Kolkata Indian Musium or Science City and will end at your door stop or Nearest to home location. Review our complete package.
Sundarban Tour Date 2020/ 2021
December, 2020 > 11, 14, 18, 19, 20, 21, 22, 23, 24, 25, 26, 27, 28, 29, 30, 31
January, 2021 >> 1, 2, 3, 4, 8, 11, 15, 18, 22, 23, 24, 29
February, 2021 > 1, 5, 8, 12, 15, 19, 22, 26
March, 2021 > 5, 12, 19, 26
Kolkata to Sundarban Tour Duration
Sundarban tour 2 night 3 days
Sundarban tour 1 night 2 days (Customize Trip)
Sundarban 1 day tour (Customize Trip)
Sunderban Tour Package Rate
~ 2 Nights 3 Days stay at Non AC Hotel } 4,500/-
~ 2 Nights 3 Days stay Night Stay at AC Hotel } 5500/-
~ Child below 8 years } 50% Charges
~ Below 4 years free
Precautions for COVID 19
Regular Thermal Screening test for Guest, Boat Crew, Manager before the tour.
Regular Oxygen saturation monitoring by Oximeter.
We will provide Face Mask & face Shield, Pocket Sanitizer for all tourist.
Hotel Sanitization by our own staff before check in.
Daily Boat Sanitization.
Valid Fit certificate is mandatory for all tourist – not more than 3 days old. (Mentioned – Blood pressure, Oxygen saturation rate, Body temperature, Any chronic diseases; like – Heart disease, Diabetes etc).
To ensure Social distancing, tourist capasity shall be reduce by 50% in Boat.
Fully Sanitized Car for pickup & drop service (Charageble).
Sundarban Tour Packages Include
Sealdah to Canning & Canning to Sealdah by Local Train.
Pick up & Drop from Canning To Sonakhali Ferrighat by Auto.
All Meals like Bed tea, Breakfast, lunch, tiffin, dinner as per package schedule.
Sundarban Boat Safari.
Boat Permission Charges.
National Park Entry Fees.
Govt Tour Guide Charges.
Experince Tour Manager.
Local Folk Cultural Program.
Mattress & pillow at Launch (Please note: No luxurious facilities are available at our launch for Night Stay. This is only for adventure lovers).
Sundarban Tour Packages Exclude
COVID 19 precautions Package – Rs.249/-
Personal expenditure.
Coolie Charge.
Any meal out of inclusions.
Any meal out of inclusions.
Video Camera Permission Charges Rs.100/- Per Day.
Personal Car Pickup & drop chages from Science city to Science City – ( Sumo/ Bolero/ Swift – 4800/-) (If Require).
Netidhopani Watch tower (November to March) entry fee & guide Rs. 300/- extra
Sunderban Tour Package Itinerary
Day 1 : Gosaba Becon Bunglow & Rabindra Nath Tagore Bunglow, Hamilton Sahib Bunglow, Birds Jungle, Pakhiralaya.
Day 2 : Pirkhali, Gajikhali, Deul Varani, Banbibi Varani, Do-Banki Tiger Reserve Forest & watch tower, Panchamukhani (Five Rever Junctions), Sudhanyakhali Tiger Reserve area & Watch tower, Pakhiralaya Island.
Day 3 : Sajnekhali Tiger Reserve forest, Mangrove Interpretation Centre, Sajnekhali Watch tower, Sarakhali.
Sunderban Tour Package Menu Details
Day 1
Breakfast : Radha Bhallavi/ Luchi, Alur Dam, Sweet, Tea.
Lunch : Rice, Murighanta Dal, Beguni, Vegetable, Prawn, Bhetki Fish, Chatni, Papad, Card, Lemon.
Snacks : Chicken Pokora, Salad, Tea/Coffe.
Dinner : Fried Rice, Mutton, Salad.
Day 2
Breakfast : Nanpuri, Chana Masala, Sweet, Tea/coffe.
Lunch : Rice, Dal, fry, Vegetable, Rui Fish, Crabs, Chatni, Papad.
Snacks : Chowmin, Tea/ Coffee.
Dinner : Fried Rice, Chilly Chicken, Salad.
Day 3
Early Morning : Bed Tea.
Breakfast : Alu Parota (2 Pices), Vegetable, Sweet, Tea/ Coffee.
Lunch : Rice, Dal, Fry, Vegetable, Doi Katla, Chatni, Papad.
Sundarban Tour Package from Kolkata Description
Day 1
Becon Bungalow, Hamilton & Rabindranath Tagore Bungalow, Sundarban Birds Jungle.
07.42 AM – 12.00 PM :- On day one, we start our journey towards Sundarban tour from Kolkata, the Durga puja capital of India. You can avail one of the two options for travelling to Sonakhali ferry ghat, one is by train from Sealdah station, and the other is by car.
Starting from Sealdah Station at 7.42 AM / 8.28 AM By Canning local, we will reach Canning around 9.00 AM / 9.50 AM. Pick up from Caning Railway Station by Auto heading towards Sonakhali ferry ghat to board on launch.
Now the actual thrill begins. As we board the Sundarban launch or Sundarban cruise and head towards our first destination, Gosaba, the windy Matla Rive rand the green vegetation upon its delta is undoubtedly to take your heart away from the dun of the city life. The Sundarban launch ride is a huge attraction in itself and does not feel like any other mundane journey. Before we even know it, we will reach Gosaba, and our Sundarban tours will get a head start. Breakfast with Drinking water will be served on the launch deck.
12.00 PM – 1.00 PM:- First, the Sudurban tourism package will take us to the Sundarbans tour of 2 bungalows, the first is the Beacon bungalow. It is one of the most historical Bunglow and is famous because it was Tagore's abode during his Sundarban tour. Next, we head towards another of the major bunglow that is Hamilton bungalow. Hamilton is called the father of Sundarban, and he is said to have established the largest cooperative society in Sundarban. The Sundarban tour package we cover both in details and provides you with an oral guide through the historical stories. Soon you will start to relish the nostalgia of Sundarban trip.
1.00 PM – 5.00 PM: – Delicious Lunch will be served on the launch in our Sundarban tour 2 nights 3 days. Then our Sundarban trip moves towards the Pakhir Jungle. This place is a real paradise for bird lovers and amusement, even for the general lot. The thousands of birds from various species arrive and fly around the island, making it a beautiful destination. This makes Sundarban tour more attracted that aims to bring you closer to the rulers of the sky. During this journey, tourists will spot seven types of kingfisher, black cormorants, egret, pond heron, Brahmani eagles, magpie robin, green bee-eaters and above all getting introduced to the lovely mangroves, with surreal creatures like the mudskipper, fiddler crabs etc.
5.00 PM – 10.00 PM:- The first day of our Sundarban tour from Kolkata finally comes to an end as we reach one of the Sundarban's hotel at Pakhiralaya Island/ Dayapur Island and rest to prepare for the second day of Sunderban tour package. Enjoy the enchanting evening with local Folk Cultural program along with Tea and Snacks. Dinner will be served on cruise/ Hotel.
Day 2
Sajnekhali Tiger Reserve ( Watch Tower ), Do Banki ( Watch Tower ), Pirkhali, Gazikhali, Duel Varani, Bonbibi Varani, Panchamukhani (5 River Junctions).
07.30 AM: – Early morning, we will start Sundarban delta Safari through the boat.
08.00 AM: – Entire day Sundarban jungle Safari guided by Govt tourist guide, who will join with us from Sajnekhali Tiger Reserve.
08.30 AM: – We will start our thrilling Sundarban boat Safari through various rivers, Islands & narrow Creeks covering Pirkhali, SarakKhali, Gazikhali, Deul Bharani, Banbibi Bharani. In this Tiger Reserve area you can see animals like spotted deer, crocodile, wild boar, snakes, water monitor lizard, different types of birds, and also Royal Bengal Tiger ( if you are lucky).
12.30 AM: – Now time to visit Do – Banki Tiger Reserve area & Watch Tower. The 498-meter canopy walk at Do – Banki allows you to view wildlife from an iron fencing enclosure; this place is something that deserves a visit from every wildlife photographer and other travellers. Have a birds-eye view of the wildlife of Sundarban from this watchtower, and from here you can see animals in their natural habitats. Little worried about safety? Don't worry. Our tour guide is always with you, and Sundarban forest authority has covered this full area with proper protection. Fantastic surrounding beauty and freshwater pond attract tigers, deer, and other wildlife towards them…
02.00 PM :- Visit Panchamukhni through Boat.
05.00 PM: – After this thrilling Sundarban National Park safari we will reach Pakhiralaya village for marketing.
Have you ever enjoyed a village with its most wild nature? If not, then come with us with our Sunderban packages and explore the most beautiful village of Sundarban which is just next to the Sundarban tiger reserve forest. Not only that here you can follow the exact village nature in the livelihood of the dwellers of this village. Don't forget to buy a bottle of raw honey cultivated by the villagers of Pakhiralaya village. You may not find there any luxury vehicles, but you can only get there autorickshaw. Each home has its own pond, and they use it for their personal uses.
09.30 PM: – Dinner will be served at Hotel/ Boat.
=> Bonus ~ if you are heading on the Sundarbans tour package somewhere around November to March, we have in store for you a special visit to Netidhopani ghat and watchtower. This place has a Hindu mythological legend. It is believed that Behula was called upon by the Hindu Gods to their heavenly abode at this ghat. This is where she mastered the life-giving chants. The mystic and nostalgic feel of this along with a broken Shiva temple is totally consuming.
Day 3
Sajnekhali Tiger Reserve & Musuem (W.T), Sudhanyakhali Tiger Reserve (W.T), Sarakkhali 1, Sarakkhali 2.
07.30 AM: – Early morning, we will start Sundarban houseboat Safari. Explore the mystical forests while cruising through the dense woods and backwaters. Accompanied by the modern amenities, premiums and facilities, a Sundarban launch safari with us can provide you with an experience of a lifetime. Early Morning we will visit Sajnekhali Tiger Reserve.
We, the city people often get bored in the hustle-bustle of city life, and our eyes lust to see greenery along with pollution-free air. If you are same, then come to Sajnekhali tiger reserve. With our Sundarban package, we will take you into the lush greenery of Sajnekhali. Sajnekhali is not only famous for its extended areas of the green field, but it is also home of Royal Bengal Tiger and varied species of birds. You can get a bird eye view of deer, tiger, and other animals in their natural habitats. So get ready with your camera to click some photos of colourful birds with our Sunderban tour package.
Youalso need to obtain the permission of entering this National Park from Sajnekhali range office, which is also considered as the head of the department of Sundarban Tiger Reserve. You can also see a nature interpretation centre here and crocodile pond beside the centre. So enter the home of tigers, fishing cats, chital, etc.
08.00 AM: – Delicious breakfast will be provided in launch. After the breakfast you can visit the Sudhanyakhali Tiger Reserve & Watch Tower.
09.30 AM: – We will start our Sundarban jungle safari through Sarakkhali island.
02.30 PM: – Lunch will be served on the launch deck. After the lunch we will be heading back towards Sonakhali.
07.00 PM: – We will reach to Kolkata with sweet memories.
Essential for Sundarban Tour Package
Indian nationals need to carry photo ID proof with two x-rox copy, Foreigners need to carry their original passport with Indian Visa is Must.
Carry common Medicines.
Please keep in mind that Sundarban is a Plastic free zone.
Don't pollute the habitat by throwing anything out from the boat/Launch.
Hunting, fishing, damage to flora is serious offence.
Preferably carry cash as possibility of accessing ATM is remote.
Do not enter in the Sunderbans National park/Tiger reserve without valid permit.
Treat the Protected Area/wilderness area with respect.
Dress in colours that blend with the natural environment.
No entry after sunset and before sunrise is permitted in the Protected Area.
Keep a reasonable distance from wild animals, and do not provoke them.
Don't play any sound system.
Entry in the Core area/ Non tourism area is prohibited.
Carrying of guns, fire arms, weapons, bows, arrows and crackers, inflammable materials are strictly prohibited
Carry sunglasses, hats and sun tan lotion.
Feeding wild animals by tourists are not permitted.
Carry Light baggage, Camera, Binoculars for better spotting, Comfortable foot ware.
Must carry mask, hand sanitizer & maintain Social Distance.
During winter warm clothes it might get chilly, For summer any kind of light clothes.
For Booking or Query , Kindly call on below given Number 
Mobile : +91-8697316693 / +91-8582994499
Email : info@travelminia.com