Malaysia Tour Packages – Book Malaysia Packages at Cheap Cost
Seller : Travel Minia 3 Nights / 4 Days
Starting From
13500/- Per Person
Customizable Tour
<> Click on it Book Now Malaysia Tour Packages Malaysia Tour Packages from Kolkata
---
Stay Plan
Kuala Lumpur (3Nights)
---
Inclusions

Optional

Hotels

Transfer

Meals

Sightseeing
---
Themes

Shopping

Summer Special

Family

Hill Stations

Bestseller
---
---
Overview
Malaysia Packages
Traveling to Malaysia is everyone dream, so here Travelminia is the right place to come to and book . We customize and find suitable Malaysia holidays packages for you.
We, Travelminia help you to sort out your desired Malaysia trip, whether you you looking for a family or a couple.
Even we plan and execute the group tours with best class service. We have many tour packages to Malaysia with starting from Rs.8000.0 per person with flight.
Moreover, Malaysia is a perfect example of unity in diversity with the likes of Chinese, Indians, Thais, Malays and local tribes co-existing harmoniously here. Islam is the main religion here but one can find people of different religions present in this diversified land. With its pristine sandy beaches, oldest tropical rainforests, tall buildings, deep caves, rich flora and fauna, variety of cuisines; Malaysia – is a famous holiday destination attracting tourists in huge numbers.

If you are even planning for honeymoon and many more, remember you have found the right choice at Travelminia.
<<Check out our many more packages>> Click on it
Book Now
Malaysia Tour Packages
Malaysia Tour Packages from Kolkata
---
Package Itinerary
---
Inclusions
Exclusions
Payment Policy
Cancellation Policy
---
Detailed Day Wise Itinerary
---
About the place
Kuala Lumpur
The capital of Malaysia, is a quintessential Asian city. The captivating skyline of the city is dotted with sky-high buildings, standing alongside beautiful structures boasting of Mughal architecture. It is home to lush green parks, bustling markets, and swanky shopping malls. The city's thriving Malay, Chinese and Indian communities add to the charm, providing Kuala Lumpur with a distinct and vibrant culture, which includes mouth-watering cuisine and lively festivals. From being a tiny mining village in the 19th century to the booming metropolis that it is today, Kuala Lumpur has come a long way. The city's most iconic landmark is the Petronas Twin Towers, the world's tallest twin towers. For shopaholics and foodies, a visit to the shopping and entertainment district of Bukit Bintang is a must, where you can find local street food as well as upmarket malls and restaurants. Nature enthusiasts can visit Aquaria KLCC and Kuala Lumpur Bird Park. To get a peek inside the religious diversity of Malaysia, you can visit several mosques and temples such as Masjid Negara, Thean Hou Temple, Jamek Mosque and many more.
Genting Highlands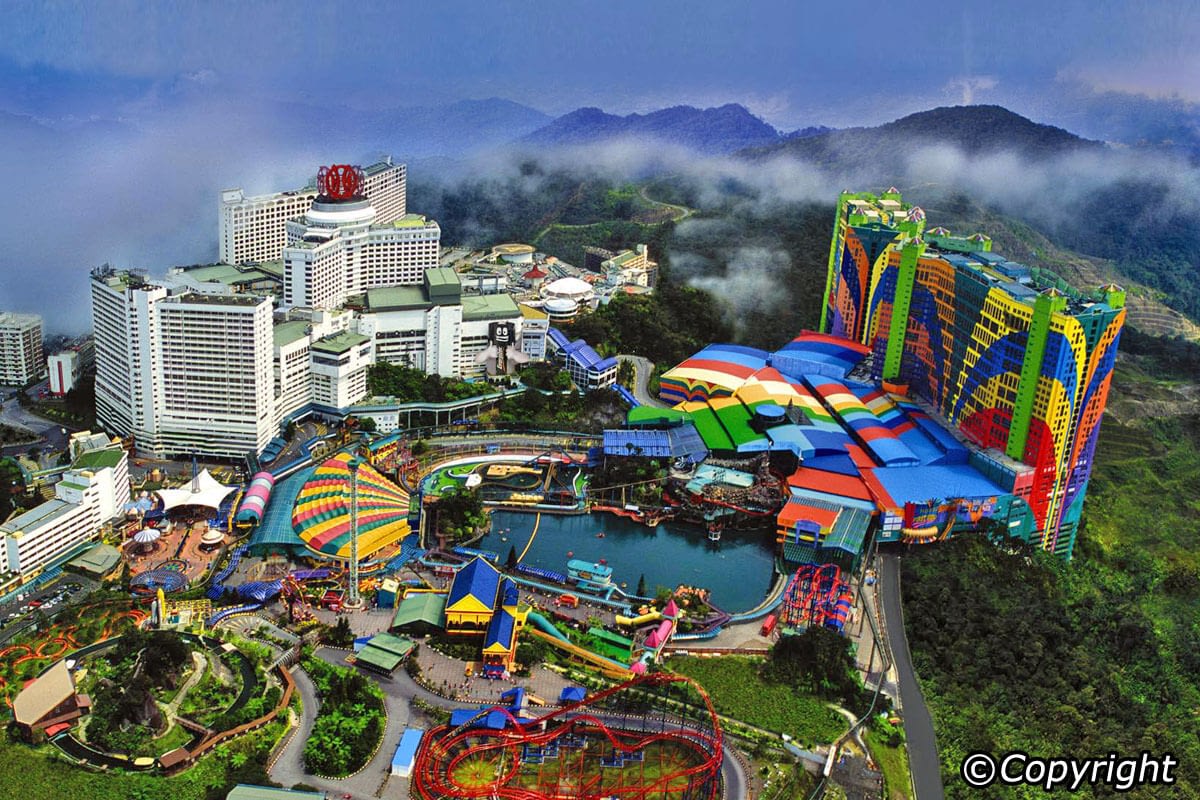 The idea of a hill resort located near Kuala Lumpur occurred to Tan Sri Lim Goh Tong during a business trip to the Cameron Highlands in 1964. He mooted this idea while enjoying the fresh and crisp air from the balcony of his hotel room. A private company called Genting Highlands Berhad was set up on 27 April 1965, with the late Tan Sri Haji Mohammed Noah bin Omar, Tan Sri Lim successfully obtained approval for the alienation of 12,000 acres (4,900 ha) and 2,800 acres (1,100 ha) of land from the Pahang and Selangor State Government respectively between the years 1965 and 1970. An anomaly happened during the obtaining of the land approvals. While the Pahang state government swiftly approved a freehold lease, the Selangor state reluctantly approved a 99-year lease. As a result, Tan Sri Lim Goh Tong met the then Menteri Besar of Selangor, Dato Harun Idris and told him that a freehold lease would be more feasible than a 99-year lease. Finally, the Selangor state government agreed to grant a freehold lease.
On 18 August 1965, a technical and construction team began the four-year task to complete the access road from Genting Sempah to the peak of Gunung Ulu Kali. On 31 March 1969, the late YTM Tunku Abdul Rahman, Malaysia's first prime minister, laid the foundation stone for the company's pioneer hotel, marking the completion of the access road to Genting Highlands Resort. The Prime Minister was impressed that the private sector, without the assistance of the Government, could develop a mountain resort for the enjoyment of all Malaysians ; subsequently a gaming licence was suggested to help accelerate the development of this remote area.
In 1971, the first hotel at Genting Highlands was completed and was named Highlands Hotel (now renamed as Theme Park Hotel). The Genting Highlands Resort continued to expand since the opening of the first hotel in 1971. Development of the area continued with care taken to ensure the maintenance of the natural beauty of the rainforest of the region.Genting Skyway cable car system that provides a 3.38 kilometres (2.10 mi) transport to the hilltop. Genting Skyway is also recognised as the "World's Fastest Mono Cable Car System" with a maximum speed of 21.6 kilometres per hour (13.4 mph) and the "Longest Cable Car in Malaysia and probably in Southeast Asia".
 In 1997, Genting Highlands Resort added the 
In 2013, Genting Malaysia embarked on a master plan to reinvigorate and transform RWG under the Genting Integrated Tourism Plan (GITP). Genting Integrated Tourism Plan is a 10-year master plan for development, expansion, enhancement and refurbishment of hotels, theme parks and infrastructure at Resorts World Genting. The plan with different phases involves a new 1,300 rooms hotel expansion to the current First World Hotel, a new 10,000 seats arena and reconverting the Genting Outdoor Theme Park.
Sunway Lagoon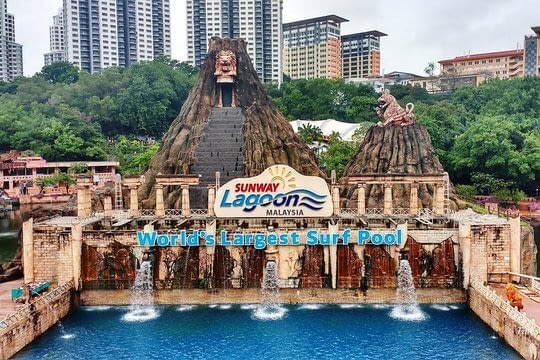 With over 90 attractions spread across 88 acres, Sunway Lagoon provides the ultimate theme park experience in 6 adventure zones — Water Park, Amusement Park, Wildlife Park, Extreme Park, Scream Park & Nickelodeon Lost Lagoon– Asia's 1st Nickelodeon Themed Land.