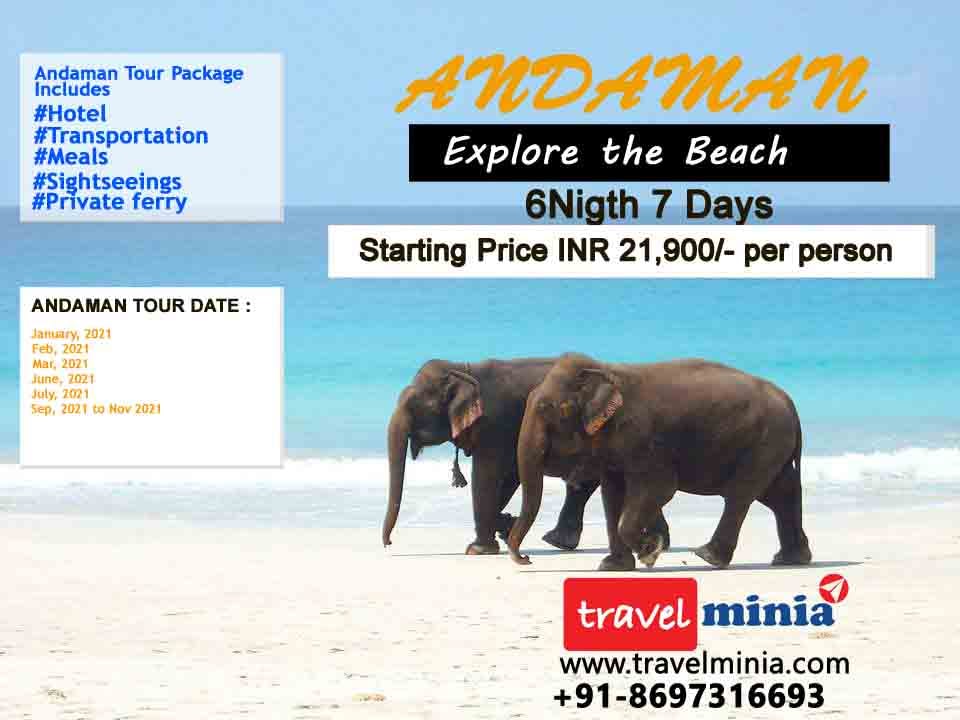 3 Best Andaman Tour Packages just at ₹3,000 (Budget & Luxury)
ANDAMAN TOUR
Are you looking for Andaman tour packages? Just make sure your itinerary like upon more than just the word obvious.
Around 1370 kilometer east of mainland India, Andaman Islands in the Bay of Bengal with Myanmar to the east and north, it is an best idyllic landscape of suncluster waters, white beaches, mangrove wilderness, sun-dappled, and coconut trees groves offering a cool shade to your back or scat as it sways gently in the wind. Just pack your bag and make your most exciting Andaman tour package. 
Andaman has proved itself as one of the best places to visit in INDIA and after COVID-19, its well know for all traveller to explore because there is no COVID-19 its COVID free but government policies needs to be followed while travelling there. The sandy beaches and the delicious scrumptious seafood along with the best marvelous places, Andaman is an all-time favorite destination for the travelers. To start your day with our Andaman tour package, in the seashore, take your camera and get out for the best scene of sunrise in the seashore, at noon soak your body in the charming and blue tranquil seawater, at afternoon discover the child within you by stepping your feet in the crystal clear water, at an event just take a guitar and plug the headphone in your moblie phone and start with the most romantic song in your hotel garnish and at night add a tight sleep night in your whole day itinerary of Andaman packages from Kolkata.
As we know a part of the Union Territory of Andaman and Nicobar Islands, the Andaman Islands are settled by Tamil, Telugu, Bengali, Myanmarese and Nicobarese folk.
As you know while enjoying perfect reteat option in the sun-kissed beaches with most sought after sands and the crystal clear blue water with our Andaman packages from Kolkata or Andaman tour, you should be thankful to God for creating such an amazing and beautiful place like Andaman. Andaman tour package has everything to offer you to make your trip as one of the best. It showcases the tropical oasis where the mangrove forest meets the undeniable biodiversity and create the best scene by combining the scenic beaches and numbers of marine activities. Andaman is a favourite place for the tourist where scuba diving attracts all aged peoples. We make this tour most enjoyable with our affordable Andaman tour package cost. As you know Radhanagar beach is a surprise for you. Apart from that, almost every beach at Andaman offers different water activities that can make the fun double in your Andaman tour package from Kolkata.
Andaman tour

 is incomplete if it doesn't include the below places.
Port Blair
You need to know its capital city to get a sense of the land's cultural heritage and its grim history. Discover Port Blair's wealth of museums, the Japanese bunkers from World War II, the highest peak on the island, its exotic marine life, a Marine Park, and water sports opportunities.
Port Blair's primary beach, the slightly busy, Corbyn Cove Beach is perfect to embrace a sky painted in all kinds of reds and oranges at sundown. The Munda Pahad Beach on Chidiya Tapu is less-crowded making it a better place to enjoy the sunset.
Havelock Island
Havelock is a 90 to 120-minute ferry ride from Port Blair's Haddo wharf and is a popular part of all Andaman holiday packages. Book your tickets online with a private operator to cover the 57-odd kilometres to an island which is largely virgin considering the rate at which brick and mortar hotels are replacing the quaint beach huts made of bamboo. Havelock (Swaraj Deep), a beach paradise known for offering South Asia's best diving experience.
Radhanagar Beach
The top sights of Havelock Island is the Radhanagar Beach, a powdery-white stretch of sand receiving cobalt blue swells through the day. The beach is about 11 kilometer southwest of the main Havelock jetty, and you could do better by visiting very early in the day to beat the crowds.
Elephant Beach 
A beach is of about 2 kilometer (40 minutes) down a cross-island road will bring you to Havelock's northwestern coastline which gets busy with tourists for the variety of services it hawks from banana boat rides, snorkelling trip aboard a snorkelling charter, jet skis, to sea walks – a first in the country. Wake up and start as early as you can to enjoy some solitude here before the whole circus begins.
Neil's Cove
A quick 10-minute walk from the Radhanagar Beach brings you to the sheltered sand and azure waters of Neil's Cove. The sea is perfect here for snorkelling and the presence of several fresh water streams make it ideal for swimming too.
Kalapathar Beach
Giant black boulders symbolise the Kalapathar Beach which is a slender strip of sun-toasted, caramel sands fronting a very blue sea. This is an extension of Beach 5 and is located on one end of Havelock Island. To steer clear of the crowds, stroll further towards the south and you can have the entire place to yourself. The sunrise over Kalapathar is the most precious, and it bring in troops of photo enthusiasts.
Neil Island
Neil Island or Shaheed Dweep might not be as luxury as its northern neighbour island, but it is as unwaited and idyllic with its own unique natural beauty. A land of dense coconut groves, paddy fields and fruit orchards with a bazaar at its heart called Neil Kendra, you will experience the languid pace of island life here. You must knw boats arrive into its jetty just 500 metre north of Neil Kendra all the way from Port Blair and Havelock.
Diglipur
Many thing to explore here and for the people who like to make more adventurous, it enough to head out to North Andaman to its sparsely populated Diglipur area, you will witness vast, unspoilt stretches of the outdoor and little else between you and this glorious natural environment. Starting with  famed turtle-nesting site, it is also home to the Union Territory's highest peak, the Saddle Peak at 731 metre, considered the mythical home of Paluga, an all-powerful local deity. There you will find a presence of the Saddle Peak National Park, an intricate chain of limestone caves, a pristine white beaches, not to mention offering delightful snorkelling opportunities, Diglipur and surrounds will be quite a discovery. Instead of hanging around for too long in this market town, you could drive eastward about 17 kilometre to Kalipur, a coastal village stuck in time.
Ross and Smith Islands
It is also one of most famous , you must head to the Aerial Bay Jetty, a 30-minute bus ride from Diglipur, to board your boat for the twin islands of Ross and Smith. It is a breezy 20 minutes before you dock into the jetty of Ross and Smith, a pair of islands separated by a sand bar. Easily among Andaman's most unspoilt spots, you have the luxury of relaxing on the beach and catching some sun for as long as you like, or if you prefer you can swim and snorkel in a vividly turquoise sea. Note: Keep at least four hours at hand to make the best of Ross and Smith before heading back to Diglipur for the night.
Long Island
Long Island is about 10 kilometre south of Rangat in Middle Andaman, this affable island community is non-motorable aside from the odd motorbike that might cross your path. The quaint wooden houses, a remnant from the island's logging history, are a reminder of a time gone by.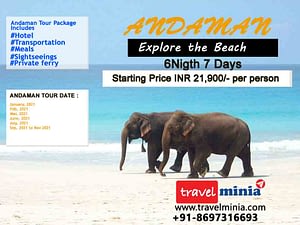 Andaman Tour Package-1
---
Day 1
Port Blair arrival.
~ Activities: Check into the hotel, Enjoy the seer beauty of Corbyn's cove beach, Go for Cellular jail, Enjoy light and sound show, Stay at Port Blair.
Get arrived at Port Blair airport. Our representative will meet you and take you to the hotel accommodated by us with our Andaman tour package. Get freshen up there and get ready for going Corbyn's cove beach. After enjoying at beach proceed to the history famous cellular Jail see the exciting light and sound show. Get back to the hotel. Stay overnight there.
• Corbyn's Cove beach
To enjoy the unspoiled natural beauty of Andaman, you should visit Carbyn's cove beach once in your life. This fantastic beach is about 8 kilometers away from the city center. The long stretched blue sea and the surrounding coconut palm trees of this beach add a charm in your Andaman tour package. It offers several water spot activities on the seashore to get you indulged in Andaman fun activities. You can take scuba diving, boating, surfing, etc in this beach. Don't miss to visit the snake island during your Andaman and Nicobar islands itinerary from this place where you can get a glimpse of numbers of deadly snakes. The colorful corals, snakes, jumping fishes, and rock faces deserve the best photoshoots in your special diary.
• Light and sound show in Cellular Jail
This is another major attraction of Andaman tour package. From the Corbyn's cove beach, we will pick you during our Andaman tour package from Kolkata and will take to enjoy this adventurous activity in Andaman. Get dropped at cellular jail and listen to the history about every cell there and the brilliant architecture of this jail tells something about the old architectural delight of India. In the evening, the light and sound show in Cellular Jail will create a magnificent environment around yourself. This famous light and sound show expose the livelihood and hardships of the freedom fighters. Enjoy the Andaman tour package including airfare customize trip and take some best photographs there.
Day 2
Enjoy at Port Blair.
~ Activities: Breakfast, Transfer to the water sports complex, See Ross Island, Enjoy at North Bay Island.
At early morning have a lip-smacking breakfast from the hotel and get transferred to the water sports complex. Take a ferry ride and reach Ross Island. Follow the tour guide to North Bay. Stay overnight at Port Blair.
• Ross Island
The name Ross island is derived from the name of captain Daniel Ross and now it is renamed as ' Netaji Subhash Chandra Bose Dweep' by the Indian Prime Minister Narendra Modi. The long stretched white beach and a bit of history make the place as one of the most beautiful places in the world. You can have a glimpse of old buildings and which are made by the Indian prisoners. The long peepal rooted and Serie trees are still alive there which are enough to take you back to the British era.
The excellent man-made caves, old churches that are associated with grim History give the tourist a unique vibe during traveling with our Andaman tour package. The experience of traveling in Ross Island gets completed when it is touched by the view of the sanctuary of birds and various species animals. This place is prohibited for the civilization settlements, so we will take you from there within the evening.
• North Bay Island
This place is also known as the hub of adventurous activities in Andaman. The refreshing activities of this island during your best but cheapest Andaman packages from Kolkata let you fall in the feel of wanting something more. The activities are here designed for all age group people, which means the famous North Bay Island is ideal to visit with family including children and the senior one. With a full day activity or picnic there, you can also find a quiet corner in the array of corals to find yourself in a charming mood.
Sea walk is a must-do on this island as it can offer you to see colorful fishes swimming around there. Boating, jet-skiing, scuba diving, and snorkeling is a must-do in this magnificent island of India.
Day 3
Havelock arrival.
~ Activities : Check out from Port blair Hotel, hotel Havelock arrival, See Elephanta beach, Enjoy at Radhanagar beach.
Get up in the morning and have breakfast there and check out from the Port Blair hotel. Reach at Havelock island with our Havelock island tour package. After check in at Havelock Island hotel, You can also take a boat ride to reach about the Elephant beach but it should be done at your own. After lunch visit Radhanagar beach at Havelock to enjoy and witness stunning Sunset in the horizon.
• Havelock Island: The most important attractions of capital Port Blair that you will visit with your Havelock island tour package, Havelock island is situated at the distance of 70 km from the city center. Decades-old this island offers dune some of the best-defined spots where you can explore the amazing combination of dense jungle and white beaches with blue tranquil water in your Andaman and Nicobar islands trip. The low population density of this island lets you allow getting indulged to nature and it makes this island the perfect retreat option from the hustle-bustle of city life.
The narrow roads surrounding the tropical jungle and the most unique trees with the fantastic and eye-soothing view of the green rice field make enjoyment when jumping at the water double. Havelock Island, with so many treasured spots and natural amalgamation, this place has made itself as one of the best places to see in Andaman. Don't miss to take a rental bike in your Andaman tours and travels at your own.
• Elephant beach: This is another charming attractions of Andaman and for its exciting carving structure and surrounding view, it receives a large number of tourists every year. This beach is located on Havelock island and you need to take a ferry ride to reach about this rock carvation. Elephant beach is also famous to the tourists for its numbers of activities like swimming, kayaking, fishing andvetf. The right place to get indulged with the nature and adventure.
• Radhanagar Beach: Considered as one of the most beautiful beaches of Asia, Radhanagar beach is located amidst the gorgeous places of Andaman. The tranquil blue seawater and the white sand beach provide a mesmerizing nature's beauty to the tourists. You are most welcome to enjoy the serenity of natural charm with its lush green trees on both sides. The magnificent view of sunset in the morning is enough to give you a charming start on your Andaman tour package.
Don't miss to take a barefoot walk on the seashore and to enjoy the breathtaking view of aqua waves in this beach. So, this is the time to discover the poet within you and to give yourself the most soul-soothing experience in our Andaman tour package.
Day 4
Journey to Neil Island
~ Activities: Check out from the hotel, Reach Neil Island, visit Laxmanpur Beach, Bharatpur Beach & Natural Rock bridge.
Get up early in the morning on your Andaman tour and have breakfast from the hotel. Get ready to see another beautiful starvation in Andaman. Check out from the Havelock hotel, then deaprt from Havelock Isaland to Neil Island. Pick up from Neil jettey drop at Hotel. Hotel Neil Island is located 37 kms from Port Blair. The cruise takes 90-120 minutes to cover this distance and reach Neil Island. Private Ferries will be prebooked. After lunch Visit visit Laxmanpur Beach, Bharatpur Beach & Natural Rock bridge.
• Neil Island: The marvelous biodiversity, exciting coral reefs, and long stretched sandy beach along with the tropical woodland and the exciting Andaman tour package by cruise, Neil Island serves the best of it. Being the small area of Andaman, you can easily have a bicycle round to roam about this island. Being one of the best islands of Andaman, it offers some of the most popular seafood that can be always in your mind. Night stay at Neil Island.
Day 5
Journey back to Port Blair
~ Activities: Sightseeing at Havelock Island, Night stay at Port blair.
Take breakfast from the hotel with our Andaman tour packages from Kolkata. Get back to Port Blair and stay overnight there.
You can have a trekking trail to reach this beach as it is more safe and easy. The reflexion of sunset on the crystal clear water of this beach presents a peaceful ambiance. Don't miss to enjoy exciting food collection from the sea shore of elephant beach in our tour package for Andaman & Nicobar.
Day 6
Adventure at Baratang island.
~ Activities: Relax at Baratang island, Explore limestone caves.
At first, take breakfast from the hotel and get set ready to cover the magnificent island Baratang. Enjoy the fantastic limestone cave visit and return to the hotel in the evening and stay overnight there.
Baratang Island: From the captivating limestone carvation to the dense mangrove forests, Baratang island presents a different type of natural wonders to the tourists. The tidal swamp forest and the small mud volcanos add another reason to visit this place. Different from Havelock island, Baratang island is a less developed area but the natural wonders are here no less than any other place. In your visit with our Andaman honeymoon package, you can get the opportunity to discover different types of birds song with the most rate rural way of life.
The local restaurants offer plenty of authentic Indian dishes that you can try on your own. The mesmerizing view and eye-soothing temperature of this place add another charm in your Andaman Nicobar packages diary.
Limestone caves: A journey to Andaman is not only a travel exposure but also to explore some of the best adventurous scenery of the world. To give your heart a visual treat, you should come once to see the amazing limestone caves. The century-old stalactites and stalagmites tell the history of Andaman. Apart from that the surrounding lush green rainforest and mangrove trees reflect the best of the best natural resources.
A speed boat ride through the mangrove forests and the canopy tide is one of the main attractions in this Andaman Nicobar packages. But during your boat ride in Andaman tourism, you are not allowed to touch the water as the other boat may pass by at this time. Once you reach the cave, don't miss to buy coconut water, cucumber, etc from the vendors.
Day 7
Departure from Port Blair
Activities: Transfer to airport, Get back to your home.
Follow our tour guide and set your way to Port Blair. Enjoy the candid moments of your Andaman tour package and make a plan to revisit this place.
Note : If your departure flight is delay, additional tour will be arranged on direct payment basis.
Andaman Tour Package Cost
>> Standard AC Hotel with AC Car Package
~ 19,900/- Per Pax ( Minimum 4 Head ),
~ 21,900/- Per Pax ( Minimum 2 Head ).
>> Deluxe AC Hotel with AC Car Package
~ 21,900/- Per Pax ( Minimum 4 Head ),
~ 24,900/- Per Pax ( Minimum 2 Head )
Andaman Nicobar Honeymoon package Covers
Carbyn's Cove Beach, Light and Sound Show at Cellular Jail, Havelock, Radhanagar Beach, Elephant beach, Baratang Island, Limestone caves, Ross Island, North Bay, Samudrika Naval Museum, Chatham Saw Mill, Anthropological Museum, Sagarika Emporium.
Andaman Honeymoon package Includes
Accommodation on Non-ac double sharing basis at above mentioned hotels / similar in base category rooms.
Exclusive Non a/c vehicle for pick up and drop as per the itinerary (not at disposal).
Airport pick up and drop.
Rooms are subject to availability at the time of confirmation.
Private Ferry for all sector.
Assistance at all arrival and departure points.
Entry permits | Entry tickets | Parking charges | Boat / ferry tickets wherever applicable.
Andaman Nicobar Packages Excludes
Airfare / Ship's fare..
All kind of personal expenses such as tips, laundry, telephone bills and beverages.
It does not include any meals unless and otherwise specifically mentioned. Guide, Jolly ride & snorkeling charges.
Optional, suggested or unspecified activities.
Water Activities.
Camera fee (still or movie) .
Additional usage of vehicles.
Any dispute regarding the child age to be settled directly with the hotels.
Click here to Explore More on Holiday Packages
Click here to Explore More on all countries visas